In place of Wizarding World Wednesday today, we have a Guest post from our friend Aleksandra Sobic over at HalloweenCostumes.com. They are also sponsoring a Harry Potter Wand Giveaway! Read on for more details.
Top 10 Wizarding World Features We Want in our World…NOW!
As Harry Potter readers and fans we are no strangers to using our imaginations. We have all enjoyed daydreaming about picking up a broom and flying over to Hogsmeade for the afternoon, or perhaps stepping into the fireplace with a pinch of Floo Powder for a quick stop at Hogwarts to pick up a Pumpkin Pasty or two. Here are 10 of the coolest elements of the Wizarding World, and why they'd come in handy in ours! Feel free to add your own suggestions in the comments section, and stay tuned for a "spellbinding" magic wand giveaway from HalloweenCostumes.com at the list's conclusion!
Quidditch
Whether or not you have an athletic bone in your body, you HAVE to admit Quidditch would be awesome! Our country already has a pension for sports fanaticism, and all of our most popular athletics take place on foot.  Just think how gaga people would go over this artful airborne activity! And if brands are willing to shell out heaps of money for Super Bowl ad space, can you imagine the "sky high" economy boost we'd get from companies buying time during the Quidditch World Cup?
Apparition
Which would you rather get: A driver's license so you can sit in traffic jams for hours on end, or a license to apparate so you can instantaneously appear anywhere you'd like? Tough decision…NOT! It would come in handy when you want to visit friends in other states, when you don't want to drive home after a night on the town, and, well, all the time!
Weasleys' Wizard Wheezes
April Fool's Day in this infamous joke shop founded by Fred and George Weasley, would probably be like Black Friday everywhere else…and deservedly so! Who wouldn't clamor for a spot in line to explore this wondrous store which carries such items as Extendable Ears, Pimple Vanishers, and U-No-Poo?? (That's the "constipation sensation that's gripping the nation" according to a sign outside the shop!)
Marauder's Map
You're going on a coffee date with a dreamy guy you met in physics class last weekend. At least you think you are…did he forget? Did he get cold feet? Is he secretly not that into you, and plans on ditching? If you had a Marauder's Map you could simply check whether his dot is waiting eagerly at Starbucks, or plopped in his living room like a couch potato…in which case the U-No-Poo you just bought would come in handy for revenge!
Invisibility Cloak
Well this one barely even requires an explanation- everyone has wanted to be able to go into total stealth mode at one point or another.  Whether it's pulling a prank on your little brother by making things in his room float, snatching up the last cookie from the cookie jar consequence-free, or something more sinister like spying on the answers to your upcoming exam, it sure would be handy to have one…or ten…of these garments in your wardrobe!
Animagus
Being able to transform into an animal at will without even needing a wand, would be totally rad. Plus, as an added "cool factor" bonus, you don't choose the animal you transform into. Rather, it is determined based on your personality and character traits! This means you will get to feel extra on top of the world when you transform into a regal eagle and your nemesis turns into a cockroach.
Butterbeer
What beverage better suited to warm your soul on a chilly winter's day, than this warm and frothy goodness served in a generous tankard? What's that you say, it's a hot day and you'd prefer a refreshing, cold beverage? Not to worry, butterbeer is also served ice-cold in a bottle. Cold or hot, frothy or dewy, it would always be butterscotchy and satisfying. Editor's Note: Grab some yummy cold or frozen Butterbeer on your next visit to the Wizarding World of Harry Potter
Veritaserum
It's colorless, odorless, and only takes three drops to make anyone spill their guts! What wouldn't you do to get your hands on some of this amazing truth potion? You could find out if your roommate stole your favorite lipstick color, if your mom actually made that pie from scratch, and who the culprit of that gross belch in the movie theater was!
House-elves
Do you ever get a strong and deep urge to do dishes? And laundry? What about dusting? Of COURSE you don't! No one ever wants to do chores! Therefore house-elves would make a perfect addition to our world. They are devoted servants, they must obey your every command, and they are fiercely loyal, attacking your enemies without hesitation. Not to worry- if you ever DO get that itch to start scrubbing your tub, you can always set your elf free by merely presenting them with an article of clothing!
Magic Wands
It goes without saying that if we had magic wands we would also need to have Olivanders Wand Shop, since half the fun of owning a wand is finding your perfect magical match! But once you've got it, you can fix your broken glasses, make a local bully spit slugs, unlock doors, and anything and everything in between, with the simple flick of the wrist!
Harry Potter Wand Giveaway sponsored by HalloweenCostumes.com!
No one can say for sure when the day will arrive that we'll actually be able to have magic wands of our own. That means in the mean time it is imperative to practice as much as possible with a replica wand, like these deluxe Harry Potter Magic Wands from HalloweenCostumes.com! Enter now for your chance to win one of three officially licensed wands. They're motion activated, they light up, and they make magical movie sounds! Be sure to drink some Felix Felicis for luck!
To win this Harry Potter Deluxe Magic Wand, please answer this question in the Comments section below:
What is your favorite feature of the Wizarding World of Harry Potter?
Contest is open to US residents only and ends at 8pm EST on Friday March 22. Your entry MUST include your email address to be eligible to win. Good luck Wizarding World fans and thanks HalloweenCostumes.com!
UPDATE: Congrats to Autumn, Aunesty and Melissa! You have each won a Harry Potter Deluxe Magic Wand. Thanks to all who entered–we will do this again soon.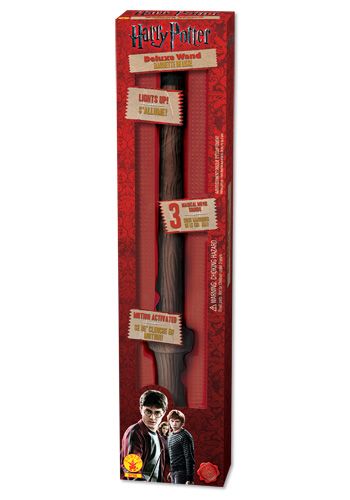 Aleksandra Sobic writes from HalloweenCostumes.com. She would definitely enjoy getting certified in whatever the Butterbeer equivalent of a sommelier is. 
---
Book your Harry Potter and Universal Orlando package or theme park tickets today!
---
Want to get all our tips and tricks for visiting the Wizarding World of Harry Potter? We wrote a travel guide for the Wizarding World of Harry Potter Hogsmeade! We included all our tips and tricks that we've learned over the last year to make your visit to the Wizarding World as magical as possible. Be sure to check it out!
---
Get your Harry Potter theme park souvenirs from the official Harry Potter shop, the WB Shop!