What better way to celebrate with your favorite Harry Potter fan than with some butterbeer treats for Valentine's Day!
We've scoured the interwebs to find the best butterbeer treats for your Valentine! Cookies, butterbeer fudge topped blondies, a nice cup of hot butterbeer latte, and more!
Butterbeer Cookies
I'm sure there's plenty of butterbeer cookie recipes available, online, but this one has actually won awards! You can find the recipe on Cookies & Cups, but the creator of this butterbeer treat is Kara Canary (her site is currently down, or I'd link to it). Plus, they just look so delicious!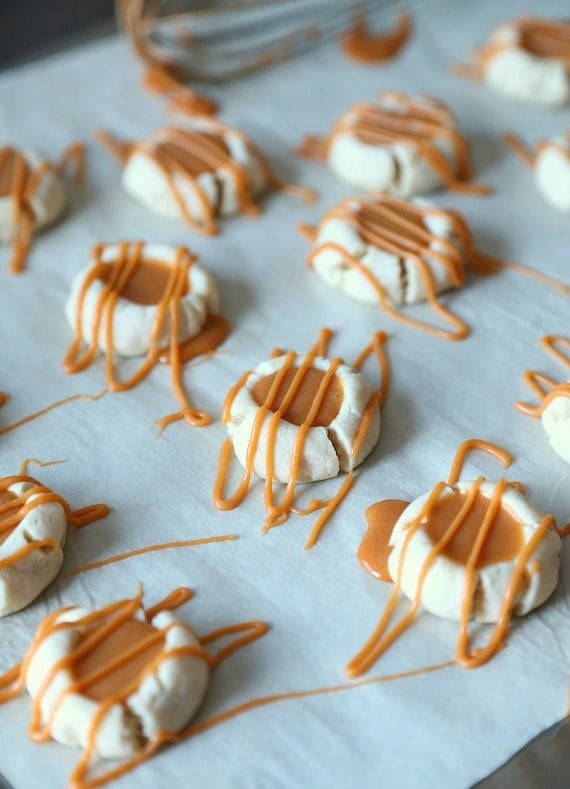 Butterbeer Cookies
Shortbread cookie with a butterscotch ganache
Ingredients
Cookies
1-1/4

cups

all purpose flour

1/4

tsp

salt

1/2

cup

unsalted butter, room temperature

1/2

cup

powdered sugar

1/4

tsp

vanilla extract

1/2

tsp

butter extract
Ganache
1/2

cup

heavy cream

5.5

ounces

butterscotch chips
Instructions
Preheat the oven to 350° and line your baking sheets with parchment paper. Set aside.

In a medium bowl, combine together the flour and salt and set aside.

With your mixer, cream together the butter, powdered sugar, butter extract and vanilla extract until light and fluffy. Add all the dry ingredients and mix on low speed for about a minute. Wipe down the sides of the bowl and increase the speed to medium, and mix for another minute until a dough forms.

Scoop a tablespoon of dough, roll it into a ball and place on your baking sheet about 1 1/2 inches apart. You can use your thumb or the back of a teaspoon to make an indention in the cookie. Bake for 10 minutes. After 10 minutes, remove the cookies from the oven and immediately press down the indention a bit more to hold the ganache. Return the cookies to the oven and continue to bake for another 10 minutes. Transfer cookies to a wire rack to cool completely.
Ganache
While the cookies are baking make the ganache. In a bowl, place your butterscotch chips and set aside. In a small saucepan on medium heat, bring the heavy cream up to just before boiling. Remove from heat and pour over the butterscotch chips. Allow to sit for a minute or so and whisk until smooth. You need to allow the ganache to cool to room temperature before using.
Assembly
When the cookies have cooled transfer ganache to a plastic squeeze bottle or zip top bag to create a piping bag. Pipe the ganache into the center of each cookie. You can drizzle the top with additional ganache if you want. Allow the ganache to set up. You can even refrigerate or freeze them for faster setting time.
Butterbeer Fudge Topped Blondies
These things just look DELICIOUS! I can't wait to try these butterbeer treats for Valentine's Day!
Coming to us from mamalovesfood, these are traditional blondies with a butterbeer fudge topping.
Butterbeer Fudge Topped Blondies
Traditional blondies topped with a generous helping of butterbeer flavored fudge
Ingredients
Blondies
1

package

vanilla cake mix

2

each

eggs

1/2

cup

oil

11

ounces

butterscotch morsels (chips)
Fudge
11

ounces

butterscotch morsels (chips)

1

can

buttercream frosting

whipped or regular

optional garnish: powdered sugar
Instructions
In a mixing bowl, combine cake mix, eggs, and oil.  Beat until fully incorporated.

Stir in butterscotch morsels.

Pour batter into a parchment lined 9×9 cake pan and bake at 350 degrees for 15 – 20 minutes, or until a toothpick comes out clean. Allow blondies to cool completely.

When blondies are cooled, pour second package of butterscotch morsels into a microwave safe bowl.  Heat in 20 second increments (stirring in-between) until morsels are completely melted.

Add buttercream frosting to melted morsels and mix well.  Spread fudge mixture over blondies.

Allow fudge to set (I prefer to do this in my refrigerator), then remove blondies from pan, cut into squares and dust with powdered sugar.
Hot Butterbeer Latte
This is one of our own recipes. Although it's a bit of a "fall" beverage, it's still cold enough in February to enjoy with your sweetie on Valentine's Day!
Butterbeer Latte
A warm butterbeer flavored beverage to enjoy on a cold day.
Ingredients
6

ounces

boiling water

1

tbsp

instant espresso

we recommend Cafe Bustelo

1

tbsp

butterscotch syrup

1

cup

heavy whipping (whole) cream

whipped cream and caramel sauce for topping
Instructions
Stir in the instant espresso in the boiling water until dissolved.

In a glass add the butterscotch and caramel syrups. Pour the hot espresso mixture over and combine.

Pour in the cream and give a quick stir.

Drizzle with caramel syrup
Butterbeer Cake
An amazing cake from Bijoux & Bits, this cake will have your sweetheart begging for more!
Butterbeer Cake
A delectable cake flavored like your favorite Harry Potter drink.
Total Time
1
hour
30
minutes
Ingredients
Butterbeer Cake
2

cups

cake flour

1-1/2

tsp

baking powder

1/2

tsp

baking soda

1/2

tsp

salt

1/2

cup

unsalted butter, softened

3/4

cup

brown sugar, packed

3

large

eggs, room temperature

1

cup

buttermilk

2

tsp

vanilla extract

2

tsp

butter flavoring

1

tbsp

sugar free salted caramel flavor

optional
Brown Butter Vanilla Frosting
1/4

cup

butter

plus, 1/2 cup butter

3

tbsp

flour

3/4

cup

whole milk

1-1/2

tsp

vanilla extract

1/2

cup

powdered sugar

1/4

cup

brown sugar

1

batch

salted butterscotch ganache

1

batch

fondant golden snitches
Instructions
Preheat oven to 350F. Line your pan with parchment, then grease and flour it.

In the bowl of a stand mixer, use the whisk attachment to mix the flour, baking soda, baking powder, and salt until just combined. Add the sugar and mix until combined.

Add the softened butter to the mixture on low until the texture is crumbly.

In a separate bowl, mix the eggs, vanilla, butter flavoring, and caramel syrup. Slowly add to the flour mixture and mix on low speed until combined.

While the mixer is on low, slowly incorporate the buttermilk until smooth.

Add the batter to a 9" cake pan and bake 25-28 minutes, testing the middle with a cake tester or toothpick.

Once the cake is done, let cool in the pans for 10 minutes. Remove cake from pans and let cool completely on a wire rack.

Level the cake with a knife as needed if they are domed.
Brown Butter Vanilla Frosting
In a medium saucepan over medium-high heat, brown 1/4 cup butter

Once the butter is browned, add the flour to the pot and whisk together.

Slowly whisk in the milk, working out any lumps. Keep whisking while bringing the mixture to a boil so it thickens.

Once boiling, whisk in the vanilla extract and remove the pot from heat and let cool.

While the mixture is cooling, cream together the 1/2 cup butter with the sugars.

Once the flour mixture is completely cool, beat it into the mixing bowl with the sugar mixture. Cream both mixtures together until fluffy.
Assembly
Put a dab of frosting on your cake plate, then add one layer of cake. Spread frosting over the top of the cake as thickly as you like, then drizzle the butterscotch sauce (recipe here!) over the frosting. Repeat with as many layers as you have.

On the last layer of cake, spread frosting over the top and sides and smooth around the edges and top. Drizzle more butterscotch sauce over the top of the cake, just enough to cover the top and let some drizzle down the sides.

Add any decoration you like such as butterscotch chips and fondant golden snitches 
These are our favorite butterbeer treats for Valentine's Day. Did we forget yours? Which one are you going to try?
Pin for Later
If you enjoyed this blog post about Harry Potter recipes for Valentine's Day, be sure you pin it to your Pinterest for later or share with your family and friends.